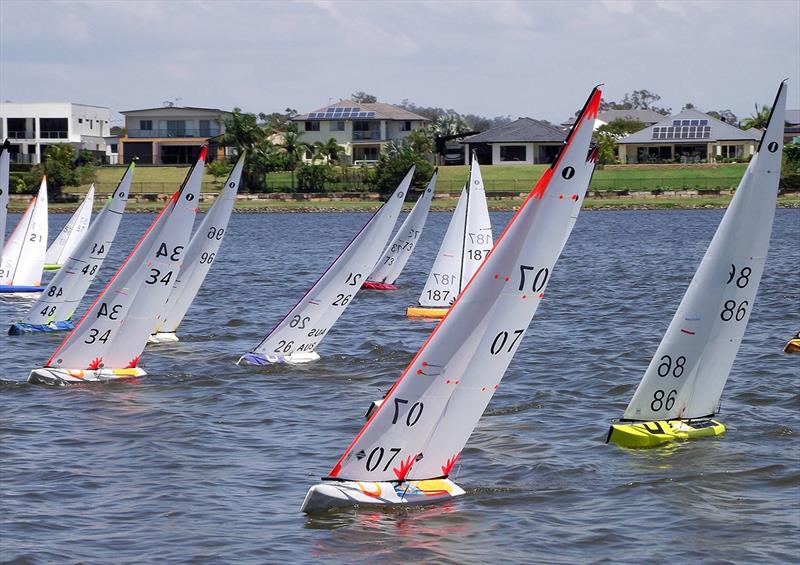 The biggest event on the Australian radio sailing calendar commences in less than a week and sees over 120 entries from across Australia, New Zealand, Japan,USA and Scotland. The Australian Radio Yachting Association (ARYA) National Championships for four classes of radio yacht are being held on the Gold Coast at Regatta Waters Lake from the 4th 16th February 2019 to determine Australia's best.
The International One Metre Class (IOM), which boasts the biggest fleet of over 70 boats, will no doubt be a close fought battle with current Australian Champion, Paul Jones, looking to defend his title which he claimed in a final race decider in Hobart last year. Jones has proven he is the one to beat claiming victory in all but one of the regional championships he competed in over the last twelve months, with his only flaw, faltering at the Queensland State Championship which saw WA's Sean Wallis take out a victory on the very same waters this event will be held. Wallis will be seeking a repeat of his performance at this event to claim his first Australian title.
This one won't be a two horse race, South Australia's Scott Mitchell is a past championship winner and will look to get another victory under his belt along with another West Australian, Ross Bennett, who has been runner-up a number of times and will seek to ditch the "brides-maids" dress.
Another close fought battle will be in the Marblehead Class where Scott Condie (NSW) will be hoping to retain his crown. Sailing the UK built "Grunge" design, a boat designed by Australian Brad Gibson, Condie may not have it all his way with Victorian's Kirwan Robb and Andy Reid, also sailing the Grunge, expected to ensure that this championship goes down to the wire, although even this trio may find other challengers in the mix.
---